Reserve your Spot

Early Childhood Summer Organizing Leadership Institute
Register Today

July 7-10, 2019 at the Eaton Hotel in Washington, DC

---
The Institute will bring together 20-25 early childhood educators and advocates from across the country to spend several days developing leadership skills and advocating on Capitol Hill. The institute will provide early childhood advocates with the opportunity to learn various organizing skills, identify threats to the early childhood profession, network with other early childhood leaders, and develop a platform for protecting childhood that is centered on racial and social justice.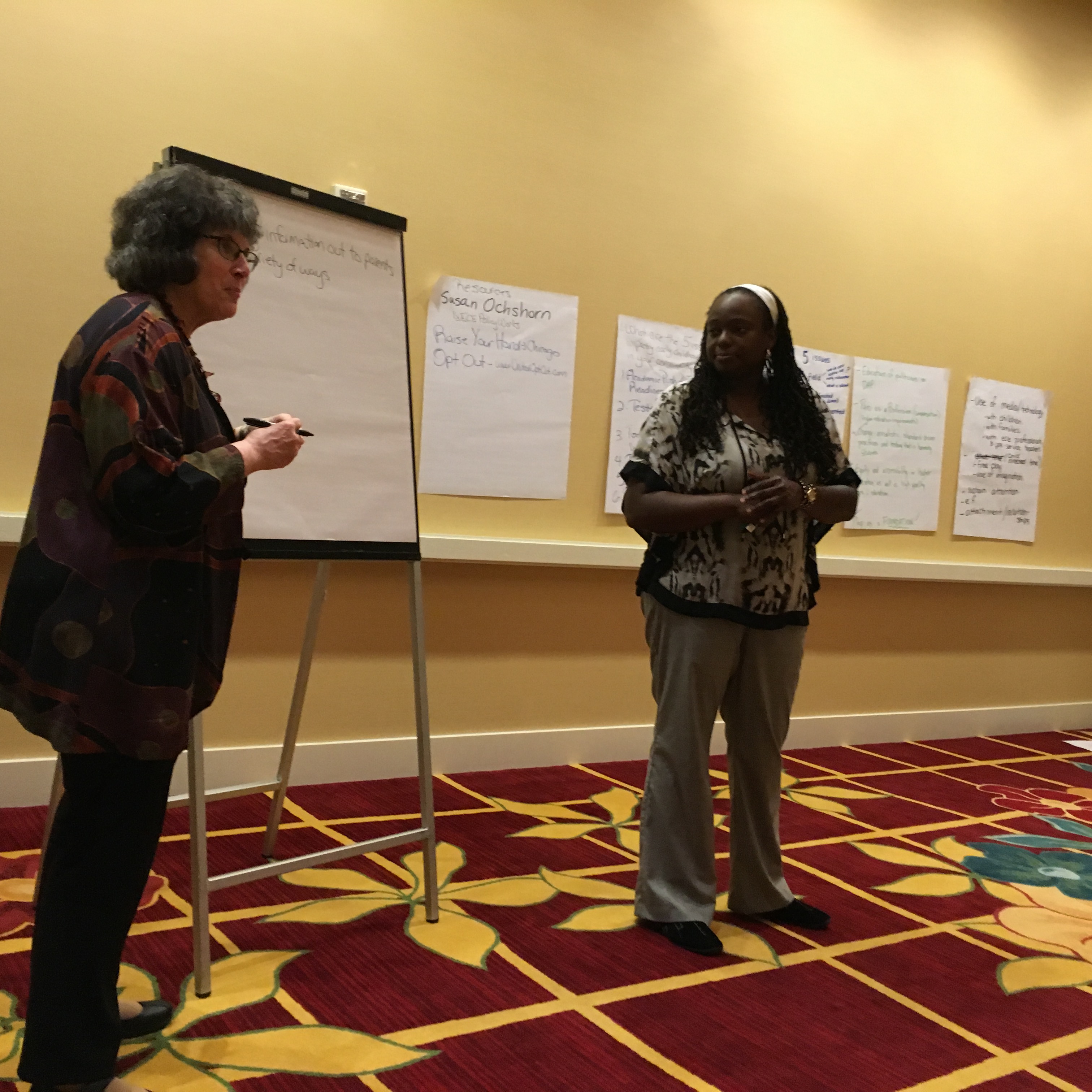 The cost of the Institute is $75.

The block of rooms reserved for the Institute with a special rate have all been booked. To make a reservation at the Eaton Hotel, call 202-289-7600 or, if you prefer, find accommodations elsewhere.

The Institute will be run by Dr. Denisha Jones, DEY's Director of Early Childhood Organizing.  Dr. Jones, a former early childhood teacher and preschool director, received her Ph.D. from Indiana University in 2013 and her J.D. from the University of the District of Columbia in 2018.  She is also Director of Teacher Education and an Assistant Professor in the School of Education at Trinity Washington University in Washington, DC.
​DEY will host its first summer institute in Washington, DC,  July 7-9. The goal of the Institute is to bring together a committed group of early childhood professionals to develop a policy platform that is child-centered, play-based, and protects childhood for all children. Participants will begin by identifying the issues that threaten early childhood education at the local and national level. Before we delve into the nuts and bolts of advocacy and policy work, we will start with a discussion on the need to center our work on racial and social justice. Additional topics will include the need for play advocacy, the moral imperative to be an early childhood resistor, and creating a policy strategy. Participants will have the opportunity to practice their advocacy pitches, identify potential allies, and create action plans to continue this important work back in their local communities.  
DEY is proud to announce the following speakers and guests at the Institute: 
Zakiya Sankara-Jabar Co-Founder Racial Justice NOW! and National Field Director of Dignity in Schools Campaign 

Kisha Reid, Owner/Director/Educator Discovery Early Learning Center; Founder, Play Empowers

Susan Ochshorn, Founder, ECE PolicyWorks

Robert Gundling, President DCAEYC

Emily Gasoi, DC State Board of Education Ward 1 
For more information, email DEY Director of ECE Organizing, Denisha Jones, at denisha@dey.org.
Follow our work on Twitter at #DEYInstitute2019 and on our website at
DEY.org
.
DEY SUMMER ORGANIZING INSTITUTE AGENDA
All meetings are in the Barnett-Aden room at the Eaton Hotel.
Sunday, July 7
1:00-5:00 pm Welcome, Overview, Identifying issues and threats to ECE
Monday, July 8
9:00-9:30 Breakfast
9:30-10:00 Welcome and Brief Overview of Agenda
10:00-11:30 Centering Racial Justice in Our Work led by  Zakiya Sankara-Jabar Co-Founder Racial Justice NOW! and National Field Director of Dignity in Schools Campaign
11:30-12:30 Lunch
12:45-2:15 Session I – "Getting Loud About Play So the Right People Hear You!" Led by Kisha Reid, Owner/Director/Educator Discovery Early Learning Center
2:15-2:30 Break
2:30-3:45 Session II – The ECE Resistance – "A Moral Imperative" led by Susan Ochshorn, Founder ECE Policyworks
3:45-4:00 Break
4:00-5:30 Session III- "Creating Our Policy Strategy," Led by Denisha Jones
Tuesday, July 9
9:00-9:30 Breakfast
9:30-10:30 Advocacy Prep 101
10:30-12:00 Mock Advocacy Sessions- with support from Emily Gasoi and Dr. Robert Gundling
12:00-1:00 Lunch
1:15-2:30 Working With Allies Working Group
2:45-4:00 Developing Action Plans Working Group
4:15-5:00 Debrief and Close Out